WHAT IS QEPR?
Since 1991 I have been dedicated to help others quickly and effectively by studying and training in the most effective cutting-edge methods to date: NLP (Neuro-Linguistic Programming), EFT (Emotional Freedom Techniques), TFT (Thought Field Therapy), Energy Medicine, Havening Techniques, Hypnosis and Kinetic Shift.
QEPR is a unique blend of the best elements of these.
QEPR (Quantum Emotional & Physical Release) is a deceptively simple, yet very effective hands-on, practical body and mind treatment developed from ground-breaking psychology, combined with energy medicine and touch based therapies – notably the neuroscience and sensory based technique of calming, therapeutic touch to the arms, face and hands with guided visualizations and gentle hypnosis. Alongside non-invasive needle free pressure to meridian energy acupressure points. 
All of which quickly releases any unwanted emotion alongside any related aches or pains, even headaches. QEPR's techniques are also very effective when self-applied!
QEPR is not long-winded talk therapy. It often produces fast results, and the subject matter can even often be kept secret from Paul if wished. 
It will help you for a life-time to be more in control of your mind, your reactions and therefore your mental and physical health and longevity.
Paul also empowers you with easy techniques that can be self-applied at home, or at work to manage your or your family's emotions better, gaining greater relaxation and peace for the rest of your life.
Article below taken from Vogue magazine…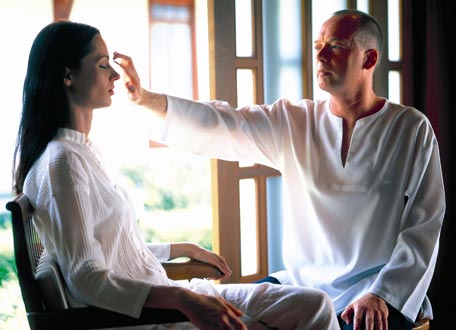 What is QEPR (Quantum Emotional and Physical Release?)
'Quantum Emotional and Physical Release' – QEPR for short, is a title for my holistic treatment that I came up with one day whilst thinking about what I did and the techniques I use. I didn't want to be pigeon-holed as a therapist who only did one specific modality, which is often the case with therapists who just stick with one thing, but I don't. I have a Kaisen philosophy of always improving and updating what I do.
I recall a few times in my early days someone would see me and say, 'Oh you're the therapist that does….!'  When in-fact, like many of us, as time passes I grow and learn, gain more experience, refine, update and improve upon what I do in order to help and better serve my clients.
So I thought about what really sums up what I do. Firstly, my treatments often work very fast in resolving whatever problem the client has brought to me –  a quantum leap you could say in healing. Secondly, a part of my work involves working with the body's meridian energy system and sometimes at a sub-atomic quantum level. Meaning I can also work and incur positive results from a distance without touching the client.
Who needs it?
Everyone needs help with something – to lead a better, healthier, longer and happier life do they not? Be it something from their past that holds them back, a trauma for example, perhaps something they are currently dealing with, for instance a heart-break, or work or family stress even something in their future that troubles them. I have helped people from all walks of life from supermodels and royalty, to top CEO's and stay at home mums improve their lives, be it to help them quit smoking, get over some anxiety, the loss of a loved one, remove a fear or phobia or lose weight.
What does it target?
Partly based on the latest neuroscience, my treatment targets the root cause of all unwanted emotion, which resides chemically in the brain. Notably receptors in the Amygdala, the brains emotional center. QEPR also targets the body's meridian energy system, whereby energy blockages and disruptions can prevent a stuck emotional problem from being released.
There are no negative side-effects to my treatment, only positive ones. My treatment calms and relaxes the mind and body, helps improve the nervous system, raises the feel good chemical Serotonin and makes you look younger. Who wouldn't want that now?!
How does it work? Tell us about the procedure
Whilst the client and I remain seated throughout the consultation, I get a brief outline of the problem or problems they would like to resolve. I generally don't need much in the way of detail, although it is nice to have and can be useful sometimes. However, just a sense of the unwanted emotions involved are all that are really necessary. It is not counselling or traditional psychology, so my treatment is also perfect for those who don't want to, or don't have the time to talk a great deal about their problem.
My therapy is a proven, effective and rapid body/mind therapy. A psycho-sensory therapy in fact as I gently and comfortingly use my hands on the clients upper body – normally the face, arms and hands as I guide them through a simple and very relaxing process. If the client prefers not to be touched then they can perform the treatment on themselves with my guidance, but the majority of clients prefer me to perform the treatment on them.
The result is…
Permanent removal of the stress causing receptors in the Amygdala, and an unblocking and re-balancing of their energy system. All this leads to complete emotional or physical freedom from their particular concern! Usually within a session or two. The clients feel lighter, more relaxed, happier and able to get on with their lives. 
Once relieved of the problems, how does one continue to live holistically?
I would encourage clients to lead a balanced life as best they can, both at home and at work. To give themselves time to rest and relax, to spend some time alone and also with loved ones, to eat, exercise and sleep as well as they can. Avoid smoking, drugs and alcohol as much as possible. And spend some time in nature.
Can QEPR be practiced at home on your own?
Yes indeed! Apart from demonstrating my work during our consultations I always give my clients simple and easy techniques, handouts they can take home and use to quickly and easily manage ANY stress or physical issue that they may encounter in the future – from general stress and anxiety to backache or headaches.
I also have videos I am working on that they can access if needed. For instance, right now I have an inexpensive online and DVD treatment available called, 'Freedom from Pain – Today!'. A simple short one hour course that if followed will enable people to quickly resolve most aches or pains and some other physical concerns too, as well as any stress, anger and anxiety!
You are also the creator of 'Emer-gizes', tell us about that
I created my 'Emer-gizes' exercise class about 12 years ago whilst working at the famed destination health resort Chiva-Som in Thailand. 'Emer-gizes,' which is a play on my last name, 'Emery', is a light and gentle, energy, physical and emotionally balancing exercise class for all ages.
It helps relieve aches and pains, tones and strengthens the body and organs, boosts the immune system and autonomic nervous system,  reduces stress and fatigue, makes people feel lighter and more energized whilst relaxing them at the same time. It includes elements of self-shiatsu, energy medicine, brain wave vibration and tapping on various acupressure points. Alongside my treatments it is also very popular and most people simply call it amazing. I love teaching it!
To book a Skype consultation with me go HERE