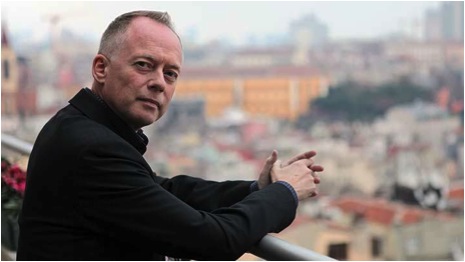 'AsiaSpa Holistic Treatment of the Year 2010'
About me
I am passionate and motivated to help you!
As a shy and often sick teen I endured severe bullying. And like many, this affected me greatly. I was fearful, anxious around people, even those I knew well. From the age of 14 I developed a Social Phobia and suffered with this most of my life. My phobia prevented me from being at ease in all situations. I even quit a high level, well paid job because of it.
Throughout most of my adult life I spent many 1000's of pounds travelling the world looking for a cure. But nothing helped. All I found was hopelessness, harmful medications, slow-costly-ineffective therapies and therapists. 
Fortunately after decades of trail and error, I eventually discovered the most innovative and effective ways to overcome my problem – techniques I am happy to shall share with you!
My fear and anxiety were relieved to such an extent that I now appear on live TV. Something previously unthinkable!
Therefore, I am very passionate and motivated to help you overcome your concerns – and quickly! I don't want you to endure years of needless suffering, endless searching, travelling, financial outlay and have to experience all the ineffective, slow therapies that I had to to get over my life-long fears and anxiety. 
My early careers
Before a career in therapy I worked as a bookseller, produced my own art/punk/new wave fanzine (magazine) – interviewing people like Ian Dury, the Stranglers, Madness and Sir Henry Moore.
I played in a band and was also a band manager, English teacher, casino croupier, telcomms manager and a Hollywood memorabilia business – meeting the likes of President Ronald Reagan, Al Pacino, Nicole Kidman, Tom Hanks and David Bowie.
My therapy based study and qualifications
In 1991 I became a therapist after studying Çounselling Skills (CSDL) at the University West of England.
Later I then went on to train in the innovative psychological techniques of NLP (Neuro-Linguistic Programming) to Master Practitioner level with NLP Co-founder Dr Richard Bandler and world-renown celebrity therapist Paul McKenna.
A few years later I qualified to trainer level in EFT (Emotional Freedom Techniques) with among others founder and developer Gary Craig.
I then studied the original 'tapping' energy method TFT (Thought Field Therapy) alongside the original developers Dr. Roger Callahan and Joanne Callahan. TFT enabled me to diagnose specific Meridian blockages within the body's field and further enhance my success. TFT importantly enabled me to finally cure my life-long Social Phobia!
2014 I studied with Dr. Ronald Ruden the phenomenal 'Havening' techniques, which I consider a major advancement in psychology.
More recently, I studied advanced quit smoking techniques with Psy-Tap founder Kevin Laye, and then Rapid Hypnosis and Kinetic Shift with Karl Smith.
I also trained in: – hypnosis (with noted expert Michael Breen), foundation Shiatsu, Thai Body/Foot Massage at the famous Wat Pho Temple in Bangkok, Reiki, 'Developing The Intuitive Mind,' Meditation, Flower Remedies (Bush, Bach) with world authority Clare G. Harvey.
After years of training, research and experience I developed my own eclectic modality –  QEPR (Quantum Emotional & Physical Release) based on the previous modalities alongside my own innovations. All this combined with my own unique style, and discovery of previously unused 'tapping' points that are also very effective for relieving emotional and physical problems.
My work experience
I have worked extensively around the world helping people from among others – American Express, Chevron, Credit Suisse, Singapore's The American Club, Mandarin Oriental and Raffles Hotel.
I have worked at many of the world's top resorts from Thailand to Turkey including Chiva-Som International Health Resort, Gwinganna Lifestyle Retreat, Mandarin Oriental (Thailand and Hong Kong), Six Senses Spas (Thailand, Qatar, Kuwait), Kamalaya Wellness Sanctuary, Anantara Resorts, Ananda in the Himalayas, Richmond Nua Wellness-Spa/Istanbul, Amanpuri in Phuket and Svarga Loka in Bali.
I worked for over 6 years as a resident therapist at the multi-award winning – number one destination spa (Conde Naste readers poll) Chiva Som International Health Resort' in Thailand, and was part of the award winning team that resulted in Chiva Som winning the 'SpaAsia Crystal Award' 2005 for 'Best Alternative/Complementary Health Centre'. For over 7 years I have been a visiting consultant at Chiva-Som.
My clients include every one from business executives and doctors to psychologists, war veterans, journalists, talk show hosts, international iconic Rock and Pop stars, Olympic and other Athletes, Royalty, Supermodels, Hollywood and Bollywood movie stars as well as Grammy and Emmy award winners, even renown top psychologists.
Best-Selling Author
I am co-author of the #1 Amazon (business) best-selling book 'The Soul of Success' with Jack Canfield (Chicken Soup for the Soul) and other leading experts, also co-author of the Amazon (business) bestseller 'The Winning Way' with Brian Tracy and other leading experts. All available from this website as a download
Pain free video course
In 2016 I created my own DVD and online video self-treatment course: 'Freedom from Pain – Today!' Enabling people to overcome any ache or pain as they watch.
Media
I have been featured and mentioned in over 100 publications and online, such as featuring in the bestselling book 'Ultimate Spa and Spa Treatments', Vogue, Gala Magazine, Financial Times, Women's Health, Men's Health, Sunday Independent, Luxury Spa Finder, Marie Claire, Cosmopolitan, Harpers Bazaar,Travel + Leisure, Spa World, SpaAsia, Sydney Morning Herald, Time Out, OK magazine, Bangkok Post colour supplement and The Nation. Frankfurter Allemande, Hurriet and Milliyet.
I was featured on the popular Australian Channel Nine hit TV series – 'Celebrity Overhaul' and many other TV shows including Fox, TNT, Ender Sarac and Sky. Also on QF Radio. 
In a 'Financial Times' (09/08/08) article by renowned BBC Journalist Michael Buerk who wrote the following about my work at Chiva Som:
'I went to two "holistic" sessions, mainly to snigger. I am the kind of narrow- minded rationalist who finds this New Age stuff screamingly funny. A rather personable chap (Paul Emery) banged on about how he could remove the blocked energy flows in our meridians, mainly, it seemed, by rapping on our eyebrows like a woodpecker. It sounded utter nonsense. The snag was it (tapping) seemed to work. An Australian chain-smoker instantly pronounced herself cured. There is a perfectly reasonable explanation, I know, but there again …'
Amusingly written! I met Michael again later and he said I was very brave to perform such a live class demonstration as it could have gone wrong. Nothing to lose I said 😉
I am featured in the book 'Ultimate Spa and Spa Treatments…'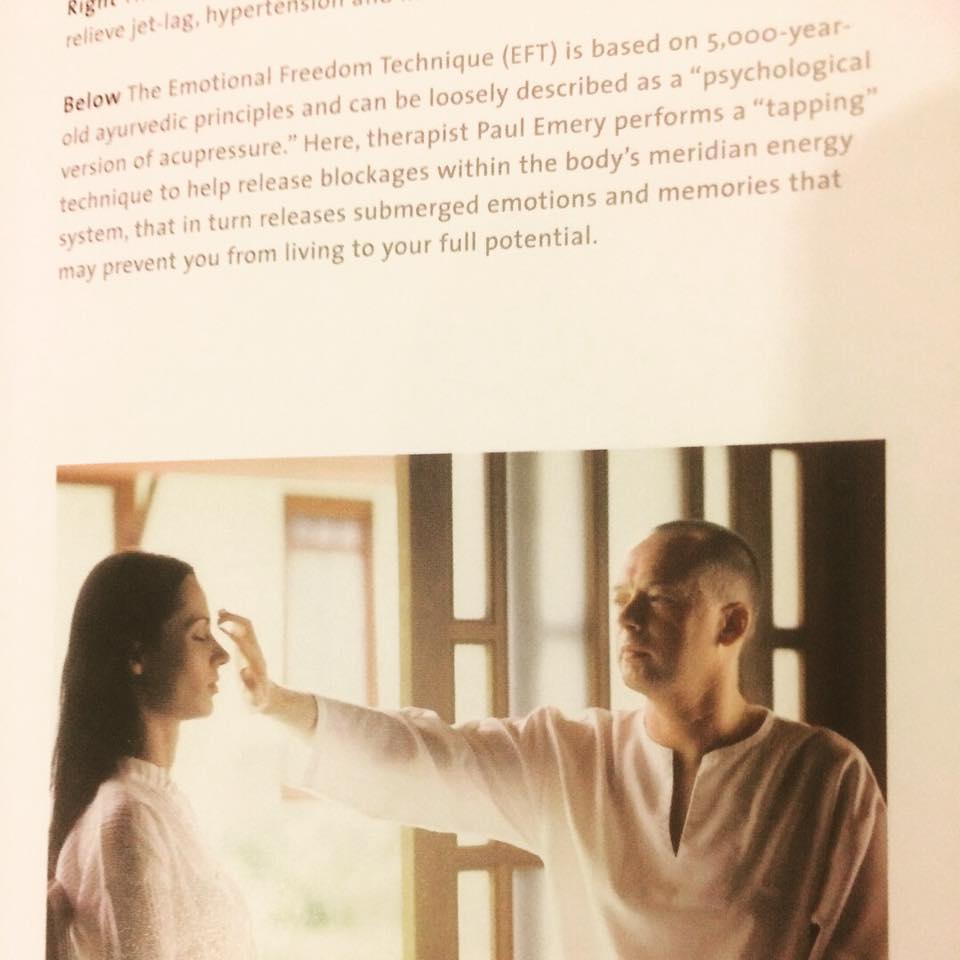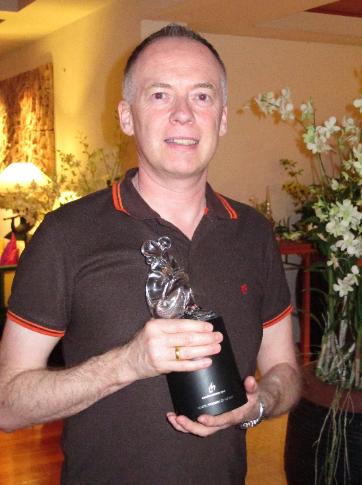 Holding my 'Holistic Treatment of the Year 2010' award