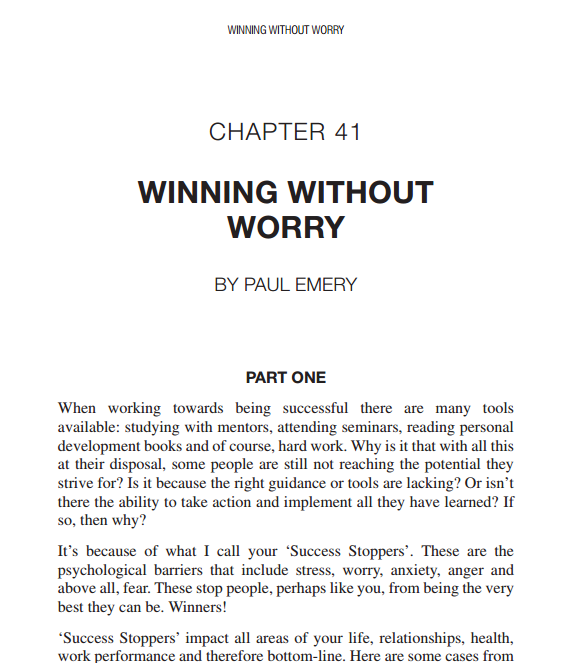 To download your free exclusive 'Winning Without Worry' chapter taken from the best-selling book 'The Winning Way' co-authored with Brian Tracy and other leading experts, just click the photo or the link here….'Winning Without Worry'.
This is what you will learn from the chapter…..
1) How to use and apply a simple, yet powerful, new groundbreaking stress reducing technique called 'Havening' (which Paul now incorporates into his treatments). I think you will be amazed to feel just how quickly it will help you overcome any stress, anxiety, worry, emotional distress even aches and pain that you may be dealing with. It also comes with an exclusive link to complimentary videos on how to perform the technique, making it easy for you to get instant relief – just by watching!
2) An easy breathing exercise which is proven to lower stress, help you become less reactive, sleep better as well as raise your anti-aging hormone DHEA!
Exclusive Special Offers: At 448 pages 'The Winning Way' co-authored by Brian Tracy, Paul Emery & other leading experts retails at $19.95 for hardback and $11.99 for Kindle edition.
As co-author of this amazing book I would like to give you the opportunity to purchase a special e-book version for only $6.99!
To access your exclusive e-book special e-book edition simply click HERE for immediate download!
You can also purchase my other book 'The Soul of Success ' co-authored by Jack Canfield ('Chicken Soup for the Soul' & 'The Secret' movie), Paul Emery & other leading experts for only $6.99! At a massive 552 pages it's full of useful information, great tips and advice. It is filled with a wide wealth of knowledge that will thrill you, help you save money, increase your business, improve your health, relationships and life in general!
In my chapter titled, 'Havening' – Instant Stress Relief – In Your Hands! (available for free HERE) I write about stress, corporate stress what it is and how to overcome it by focusing on, identifying and changing some important 'external' and 'internal' factors. I then go on to talk about and describe how to perform the miraculous Havening technique on yourself to reduce any current stress from your life!
Simply click HERE to get immediate access to this great book – 'The Soul of Success!'
Special Offer: You could also download both books – 'The Winning Way' AND 'The Soul of Success' for the low offer of only $9.99!
Simply click HERE to download both books!