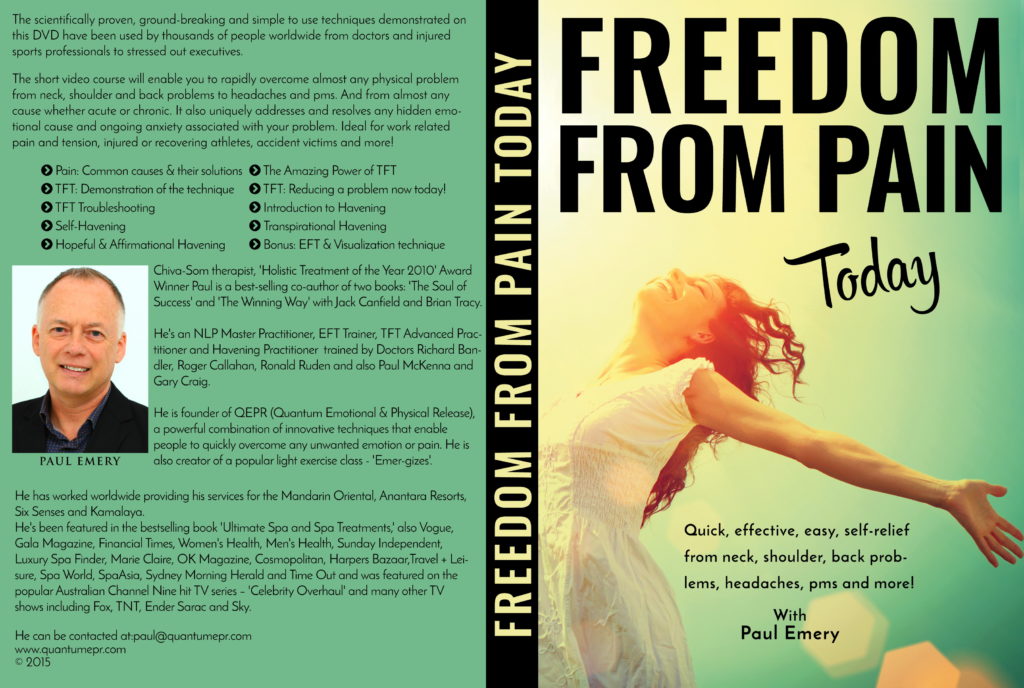 Paul Emery's "Freedom from Pain – Today!" Exclusive Ground-Breaking Online Video Treatment and DVD
Quickly overcome muscular aches and pains, headaches, sports injuries and more with Paul Emery's one hour easy to self-apply treatment: 'Freedom from Pain – Today!
 Heal your body faster and eliminate any associated stress, anxiety or trauma! 
'An effective , clear and easy work . I have been deeply touched through this course . And also grateful for being able to practice it in daily life . Thanks a lot . .' Yesim Basoglu
Click here for Paul Emery's …..'Freedom from Pain -Today!': Exclusive Video Course – Promotional Rate  … Nothing to lose by trying it!
Effective. Quick. Easy. Proven. Affordable. Accessible!
Overcome headaches, pms, muscular problems – neck, shoulder, back, leg, joint problems with these simple, yet rapid cutting-edge techniques! Ideal for athletes, sports injuries, accident victims, office workers and more. 
You can view the FREE video previews here: Freedom-from-pain-today/
Or to book Paul Emery for a Pain Relief session use this booking FORM
Yes, you can often in a very short while overcome physical problems, heal faster – aches and pains, muscular tension, stiffness, soreness, joint pain, headaches and many other physical concerns with this powerful one hour course! Comes with a unique section on eliminating stress and anxiety, which can often contribute to a physical issue.
No previous experience, drugs, equipment or additional techniques and methods required. All you simply need are your hands!
'I think the course is excellent and easy to use with really clear instructions from Paul Emery'. Jan
Paul Emery's Video Course Benefits:
*Reduces the negative emotions that very often make a physical problem worse e.g anxiety, sadness, anger, fear, frustration
*Effective for those suffering from headaches, neck, shoulder, back and joint problems
*Benefits frequently felt immediately
*Performing the techniques once is often enough to alleviate a problem
*Uses the latest ground-breaking and proven scientifically based techniques
*Safe, easy, effective and painless
*The first course of its kind – ever!
*No tools or equipment needed
*Techniques can be performed anywhere, anytime
*No previous knowledge required
*Simple to understand and implement techniques
*Comes with additional complimentary module PDF worksheets
*Course and its benefits can be completed within an hour
*Two Free bonus videos
*Free valuable surprise gift at end of course
Some 'Freedom from Pain – Today! Reviews
My own experience with Paul's therapy was very successful . I had spasm of pain for months, I took pill after pill, Dr just gave more pills. It took just one session with Paul Emery. At the end of the session the pain had gone. 6 months down the road and still no pain like I had before, every day I had pain so bad I cried with the pain. It was like Magic Paul you gave me my life back. Thank you Paul! Gill Sims
Lots of very useful techniques to take control of your health and ease pain. I am looking forward to helping my family with what I have learnt from this course. Thank you Paul. Sue Charlesworth 

Believe it or not, it works. Better believe it and give it a try yourself. The technique is quite simple yet effective. Thank you Paul for sharing it! Natalia
Paul Emery knows his stuff! Easy to follow course, well structured, lots of important information and actionable techniques. And of course, above all really helped eliminate some of my aches and pains! Liked the part on medication side-effects also and how to take a more natural holistic approach. Tools for life whenever needed 🙂   Martin Brice
Easy to understand, get into the point , and very effective when try. Told you it is work. Must try!!! Nantika
(Paul Emery's "Freedom from Pain – Today" online and DVD video course supports and compliments, but does not replace the care and advice of a doctor or other licensed medical practitioner e.g chiropractor. Always consult your doctor or health professional before embarking on any alternative treatment, no matter how powerful.)
Preview or purchase Paul Emery's course here  – Freedom from Pain – Today!
Paul Emery (c)