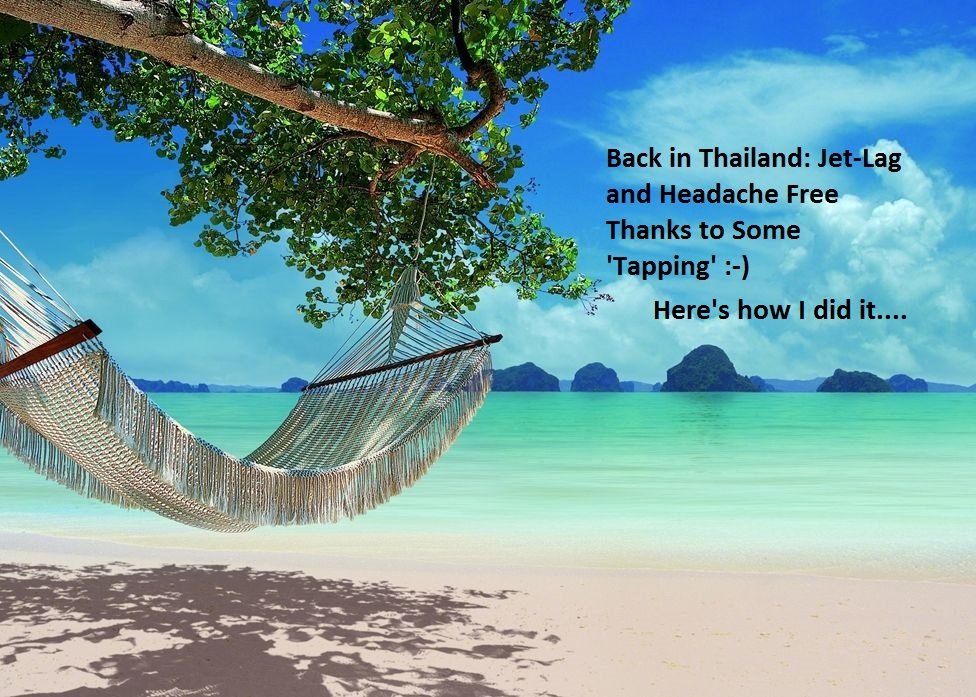 Even though I love working in Turkey it's just great to be back here in sunny, hot Thailand. I always love the food and the people are smiley, warm and welcoming 🙂 Have you ever tried Thai food? I'm sure you have even if you've never been here! One of my favorites is the Chicken Green Curry – yummy!
As usual the flight back from Turkey was long and fairly uncomfortable, over 10 hours. The temperature in the cabin ranged from freezing to baking hot – how do they manage to do that I wonder?!
It therefore came as no surprise to me that whilst on board I started to get a painful headache, right above my eyes. Probably due to the stuffiness of the cabin temperature I thought. Damn, just what I needed to make the journey even more pleasant! However, I started the specific TFT (Thought Field Therapy) tapping sequence for headaches and low and behold 5 minutes later it had gone!
What was the specific sequence I used for my headache?
It was as follows: I tapped the Karate Chop point x8, followed by the back of the hand (9 Gamut spot) x50, then under the collarbone x10. I repeated this sequence several times for a couple of minutes whilst tuning into the pain.
To keep it simple I did this without needing to do the 9 Gamut procedure -and it worked just great! Give it a try anytime you get a headache – you've got nothing to lose by doing it, except maybe your headache 😉
On another note I use to suffer from terrible jet-lag on long flights, but not any longer!
There seems to be a lot of advice out there on how to overcome it. This ranges from drink lots of water and keep well hydrated to don't eat anything whilst on board to taking homeopathic medicine. All great! (And by the way, their is a difference between jet-lag and general lack of sleep.)
Anyhow, by far the best thing I have come across to help with jet-lag is a particular and specific TFT tapping sequence!
There are two special sequences. They are as follows:
For flying East to West – tap the Karate Chop point x10, followed by under the arm x10, then under the collarbone x10 (along with the 9 Gamut).
For flying West to East – tap the Karate Chop point x10, followed by under the eye, then under the collarbone (along with the 9 Gamut)
Tap your particular sequence whilst on the plane about every waking hour or so, nobody will notice 😉 as you tune into your new time zone. The tapping will relax you and help your body/mind adjust more quickly to the new time zone allowing you to arrive nice and refreshed.