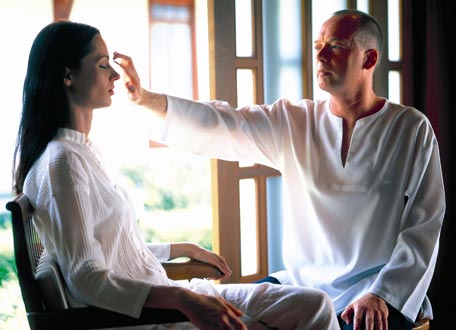 ARE YOU STRUGGLING WITH SOMETHING THAT BOTHERS YOU?
Paul's signature QEPR treatment quickly relieves the causes of: stress – anxiety – worry – sadness – grief – anger – frustration – fears – phobia – trauma – depression – loneliness – love pain – relationship problems – food/cigarette cravings – overeating – excess weight
Why not make an appointment with Paul now for a FREE, no obligation, initial Skype chat and find out how he can help you – BOOK HERE!
"Paul is great – it helped me!" Kate Moss. Supermodel & Icon
You see, Paul is passionate, dedicated to help and empower you to quickly, painlessly overcome any past, present, future stress or pain from your life. He doesn't want you to suffer needlessly for a day longer than you have to. Because he knows what it's like to suffer!
For 35 years Paul travelled the world seeking the best therapies and therapists to study. He hoped by doing so he would find a natural solution to his debilitating social phobia, fear, uncontrollable shyness and anxiety. Eventually as the decades passed he found the answers he was looking for. Now he wants to help you! Paul has brought together the most effective elements of what he had learned and experienced – the best of the best techniques! He then created his own rapidly effective treatment; QEPR (Quantum Emotional & Physical Release).
What is QEPR?
It's a deceptively simple, yet very effective hands-on, practical body and mind treatment developed from ground-breaking psychology. Notably the sensory based neuroscience of calming, therapeutic touch to the arms, face and hands, guided visualizations and gentle hypnosis. This alongside non-invasive needle free pressure to meridian energy acu-points, quickly releases any unwanted emotion and stress related aches or pains, even headaches. QEPR's techniques are also very effective when self-applied!
QEPR will help you for a life-time to be more in control of your mind, your reactions and therefore your mental and physical health and longevity.
QEPR has already helped 1000's of people worldwide from doctors, CEO's to royalty and pop stars, bestselling co-author and 'Holistic Treatment of the Year' winning Paul Emery's QEPR treatment is empirically validated for the release of any area of stress, anxiety and worry from your life. It was developed by Paul, renowned doctors, psychologists, neurologists and energy healers over 40 years.
"This guy is awesome!" CNN (Turk)
 Paul's treatments include:
QEPR – Paul's Signature Treatment!
Feel calmer, more peaceful, in control, confident and focused with increased health, clarity and vitality by gently and effectively releasing any concerns that are holding you back, from work related stress to severe past traumas!
As with all Paul's treatments QEPR is not talk therapy – it often produces fast results, and the subject matter can even often be kept secret from Paul if wished. Paul also empowers you with easy techniques that can be self-applied at home, or at work to manage your or your family's emotions better, gaining greater relaxation and peace for the rest of your life.
Not like any other meditation, peace comes fast! Easy and simple, yet powerfully effective guided visualization and self-touch based meditation that is guaranteed to leave you with a long-lasting feeling of peace, calm, focus and tranquility. You will find that this comforting meditation quickly quietens the mind, allowing you to effectively let go of any areas of stress, anxiety or worry from your life. The therapy can easily be used at home, or at work, to manage your emotions better and gain greater relaxation and peace in your life. 
Sleep Better Tonight!
Simple, practical strategies and tried and tested techniques that will enable you to gain control of your mind and body, switch off and quieten your mind, let go of any worries, anxieties and that annoying internal chatter helping you to quickly relax both mind and body, allowing you to get a perfect nights sleep each and every night.
Weight Loss Made Easy 
This is not about dieting! End that disheartening yo-yo dieting, raise your self-esteem and feel better about yourself! Lose and importantly maintain weight loss with a unique 4 step eating strategy plus the all essential psychological support. Control emotional eating, cravings and let go of any core stress, anxiety or self-sabotaging habits and behaviours and increase motivation.
'The miracle therapist!' 

Marie Claire, Editor
Pain Release 
This treatment gently releases any causal or hidden underlying emotion contributing to your physical condition – often stress, anxiety, worry or anger. It is not for disease related symptoms. The management, reduction, even complete elimination of physical symptoms such as chronic or acute aches and pains, backache, pms, neck and shoulder tension and headaches can be obtained. If you've tried everything else with little sustained relief, then this could be for you! (Always consult your doctor before embarking on any alternative treatments)
Detox, Fasting, Cleansing & Dieting Support 
Reduce hunger pangs, cravings, nausea and headaches and relieve any heightened emotions. Detox support can also improve mental and physical health by identifying food and environmental toxins and sensitivities.
Quit Smoking (approx 3 sessions) 
Become a confident, proud, happy and content non-smoker without using willpower or gaining weight! Control any cravings-habits-addictions or withdrawal, and manage any underlying driving emotions such as stress, anxiety, fear, anger, or frustration. (*No smoking 12 hours before treatment begins.*)
"What Paul did for me was just get smoking out of my life completely" Phil Burton, Human Nature Vocalist
How many full consultations maybe required?
As QEPR generally produces rapid results 1- 4 consultations are all that are required for a specific concern (a payment plan be requested if necessary).
Skype Consultations and Paul's Guarantee!
Paul's Skype based QEPR consultations are often just as effective as they are in-person. So why not book today?!
He guarantees you will notice a reduction in your problem during your first consultation, or your next consultation is free! This is provided you follow his instructions and engage fully with the process during the consultation and later at home if necessary.
"AMAZING: Paul Emery is the only therapist I know who offers a guarantee. He is that confident you will benefit!" David Mount – Business Consultant
About Paul Emery
"Holistic Treatment of the Year" award winner. Bestselling co-Author of "The Winning Way" and "The Soul of Success" with Jack Canfield ("Chicken Soup for the Soul"& "The Secret") and Brian Tracy "Maximum Achievement").
Paul has been featured by Fox News, Sky, Australia's 'Celebrity Overhaul', Vogue, Gala, Women's Health, Sunday Independent, Sydney Morning Herald, Marie Claire, Harpers Bazaar, Cosmopolitan and OK magazines. He has worked out of the world's top health resorts like Chiva-Som and Ananda in the Himalayas, and has helped 1000's of people, from doctors and CEO's to rock and pop stars as well as royalty. 
'Paul Emery is exceptional! He listens carefully, is understanding, experienced and importantly helped me overcome a severe anxiety problem. I recommend him without reservation, and so will you!'  Brett Batchelor
Come and Learn QEPR or Host a Training Course or Workshop! 
Throughout decades Pal has have traveled internationally to study with highly regarded doctors, such as Dr. Roger Callahan, Dr. Ronald Ruden, co-creator of NLP Dr. Richard Bandler. Also with EFT Founder Gary Craig, celebrity therapist Paul McKenna and more recently Kevin Laye and Karl Smith.
Now you can come and learn the best of the best teachings uniquely combined with his own experience and innovations that he successfully uses in his consultations. All at a fraction of the time, research, experimenting and financial cost he had to! 
During his easy QEPR Practitioner course, trainings or workshops you will learn the best, most effective and quickest ways to help yourself or others overcome a wide-range of problems. These are the same techniques that he has successfully tried and tested on 1000's of his clients. You will be amazed at what you will be able to accomplish after this course! Go HERE for further details or contact Paul if you want to hire him to provide workshops in your company or in your area.
'It is like magic. I'm feeling amazed. Well, everyone should try him!' Pratha Shah
 Want to know more? Then read this article & FAQ taken from my 2017 Vogue interview
DISCLAIMER: As with any treatment QEPR (Quantum Emotional & Physical Release) is designed to augment, but not replace medical advice. Always consult your doctor first!