Do you want to know the secrets to live a happier, calmer, more peaceful life?
I promise you that if you're experiencing any unwanted emotion you will find out just how to, overcome a problem and feel better by working with me. 
Even through a Skype session!
To book your initial free Skype chat to see if I can help you, go HERE!
Just stop and imagine for a moment what your life will be like if we work together and you overcome the very thing that is holding you back!
Before you decide if, we will work together, perhaps you'd like to know '6 Exercises to bring happiness into your life'. Just go to my Vogue Magazine interview HERE to find out how and benefit from some of my techniques straight away!
Or perhaps you'd like a FREE 'Weight Loss Made Easy' audio session with myself. It's just like having a real in-person consultation! Learn how to eat correctly to lose weight, quickly overcome cravings, emotional eating and more! Simply click HERE!
'Paul is great…..it helped me!' Kate Moss Supermodel and Icon
Book a free chat or Skype sessions HERE now – because emotional freedom is only a call away!
Why Paul Emery and his treatments?
My Dedication to help you! Would you like to work with a therapist/coach who also know's what it's like to suffer and so is passionate to share their expertise and knowledge to help you as quickly, effectively and painlessly as possible?
Experience: Would you like to work with a therapist who has worked internationally since 1991 helping 1000's of people from top CEO's and rock stars to royalty and companies like Ford?
Awards & Media: Would you like to work with a therapist who's treatment was awarded  'AsiaSpa Holistic Treatment of the Year 2010' and has been featured by the likes of Sky News, How to spend it, Financial Times, Vogue, OK, Women's Health, Cosmopolitan and in four books?
My Treatments are founded on the latest ground-breaking and science based techniques that are safe, gentle, effective, quick and side-effect free.
One such technique 'Havening' has been the subject of study by the King's College, London and published in the Health Science Journal, '…There was a clear improvement on all mental health measures after the Havening intervention,' said lead researcher Professor Neil Greenberg.
You don't have to believe in my methods for them to work. Your issue is completely confidential between us and I even don't need to know the details of what you'd like help with. It can be kept secret and to yourself if preferred. More about my treatments HERE
Your consultations with me
Apart from us working together at one of the world's top health resorts and spas where I often work the quickest way for you to get help from me is via my easy online Skype Consultations HERE from the comfort and convenience of your own home or office!
Want to check out what I do? You could also go to some of the helpful resources in the FREE tab in the navigation bar, also view my YouTube channel HERE
Have a question or would like to book a free chat? 
If you would like to book a consultation with me, have any questions, or book a free, no obligation initial online chat to see how I can help you then just email – info@quantumepr.com or complete the simple form below HERE
Not sure if, my treatment is right for you?
Below is a sample video (I have more on YouTube) of just one of my methods – the neuroscience based 'Havening Techniques' which is taking the psychology and coaching world by storm!
At the beginning I asked a group of spa therapists from 'Ananda in the Himilayas' to think of something that is currently bothering them and scale it 0-10, 10 being the highest negative emotion felt.
After scaling their problem I asked them to put the problem completely out of their mind and focus on the now as they performed a facilitated, simple and effortless group self-treatment.
'It was definitely a motivational session that truly made me feel good…I'm sure that anyone who participates in these sessions will definitely feel much better' Harper's Bazaar Editor
About Paul Emery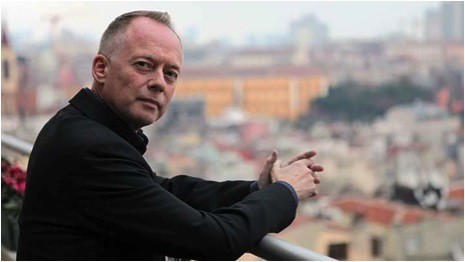 'The miracle therapist!' Marie Claire, Editor
At the age of 14 I was diagnosed with a severe 'Social Phobia/Anxiety' and wanted desperately to overcome it. I searched for many decades for a solution but nothing helped, that was until I discovered the techniques I use today to help thousands of people lead better, happier lives. Now I want to share my discoveries and help you!
I am one of the co-authors of two bestselling compilation books alongside the great Jack Canfield (Chicken Soup for the Soul), Brian Tracy (Maximum Achievement) and other leading experts. READ MORE ABOUT PAUL HERE
Come and learn, experience the best, most effective elements of cutting-edge therapy by attending or hosting a Paul Emery workshop or training course!
Throughout several decades I have traveled internationally to study the best therapies with highly regarded doctors, such as TFT (Thought Field Therapy) with founder Dr. Roger Callahan, Havening Technques with founder Dr. Ronald Ruden, NLP (Neuro-Linguistic Programming) with co-creator Dr. Richard Bandler and Paul McKenna Phd. Also some training in EFT (Emotional Freedom Techniques) with founder Gary Craig, and more recently some Psy-Tap techniques with Kevin Laye, Kinetic Shift and Hypnosis with Karl Smith.
Now you can come and learn the very best of the best teachings I have been trained in, which I uniquely combined alongside my own experiences and innovations that I successfully use in my QEPR consultations. All at a fraction of the time, research, experimenting and financial cost I had to! 
'"It is like magic. I'm feeling amazed. Well, everyone should try him!" Pratha Shah
During my easy training's or workshops you will learn the best, most effective and quickest ways to help yourself or others overcome a wide-range of problems. These are the same techniques that I have successfully tried and tested on 1000's of my clients. You will be amazed at what you will be able to accomplish afterwards!
Go HERE for further details of training, or HERE for info about general workshops/retreats, or simply email me at; info@quantumepr.com if you want to hire me for your company or resort.
---
Form
Please Note: Results of any coaching or treatments provided by Paul Emery vary from person to person. As with any holistic, alternative treatment, QEPR (Quantum Emotional & Physical Release) is designed to augment, but not replace medical advice or treatment. As always there are no guarantees of success. Always consult your doctor or health care provider first!
Privacy Policy & Cookie Declaration
Paul Emery (c)