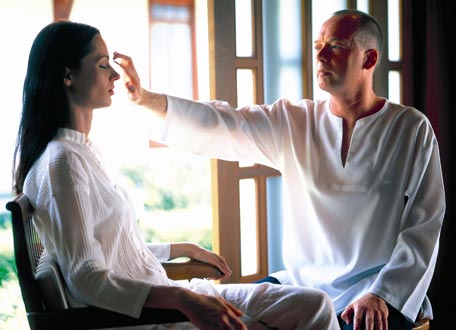 My vision is to help you overcome any of your emotional or physical concerns – quickly and effectively!
Why? Because unlike myself and the 1000's of people I have already helped, I don't want you to endure the weeks, months or years of needless suffering. 
To put up with the endless search, travel and financial outlay. To experience all the ineffective and slow therapies that many have to go through to finally get permanent relief from your concern. 
You see for most of my life I suffered from terrible anxiety, irrational fears and a social phobia. That was until I discovered the techniques I'll be sharing with you.
'Paul (Emery) is great, I liked EFT, it helped me!' Kate Moss. Supermodel & Icon

What is QEPR? 
QEPR is a scientifically proven, rapidly effective touch-based body/mind treatment developed by renowned doctors and Paul over decades. Release of unwanted emotion and any related physical symptoms occur through ground-breaking neuroscience and energy psychology.
It is shown that specific, soothing upper-body touch combined with simple visualizations creates verifiable chemical changes within the brain's emotional/pain centre, the "Amygdala".
Changes also occur by way of "tapping" specific meridian energy points, or by shifting how the problem is perceived through the senses. QEPR blends groundbreaking practical techniques, such as TFT, Havening, Kinetic Shift, EFT and NLP.
'The miracle therapist!' Marie Claire, Editor
My Services
Stress Relief: Manage you emotions and feel better, calmer, stronger, more in control by gently releasing any emotion that may hold you back; anxiety, worry, frustration, sadness, anger, fears, phobias, trauma, guilt, depression
Weight Loss: End yo-yo dieting, raise your self-esteem and feel better about yourself. Lose and maintain weight loss with a 4 step eating strategy plus essential psychological support; control emotional eating, cravings, release any underlying stress, blocking or self-sabotaging emotions
Detox Support: Reduce hunger pangs – cravings – headaches, relieve any heightened emotions and improve mental/physical health by identifying food/environmental toxins and sensitivities
Mind/Body Balance: Self-shiatsu and simple energy enhancing exercises to increase health, energy system, energy flow, vitality, immunity, circulation, nervous and lymphatic system, internal organs, coordination, strengthen mind/body, overcome fatigue, balance left/right brain, generalized stress relief
Pain Release: Management, reduction even elimination of physical symptoms, aches and pains, backache, pms, neck/shoulder tension, headaches. Also gently release any underlying emotional cause or increase in symptoms by stress, anxiety, anger
Sleep Better: Simple strategies to be able you to switch off and quieten the mind, relax and let go of worries, anxiety
Quit Smoking: Become a confident and content non-smoker without willpower or gaining weight; control any cravings-habit-addiction-withdraw and manage any underlying stress and emotions such as anxiety, fear, anger, frustration
Computer BioFeedback: See in real-time how to quickly improve emotional resilience, become less reactive, more in control, sleep better, increase anti-aging DHEA hormone, balance heart/autonomic nervous system by simple heart focused breathing exercise
Golf/Sports Performance: Improve your game and score, be more relaxed, confident; reduce yips, gain greater control-focus-concentration, manage anger/frustration/nerves/tension/pain, increase energy
How many sessions are required? As the techniques tend to produce fast results, generally only two consultations are required for a specific concern
A little about myself.  As an Amazon bestselling co-author (with Jack Canfield 'The Soul of Success' and Brian Tracy 'The Winning Way') I have been featured by Fox, Sky, Australia's hit TV show "Celebrity Overhaul", Vogue, Gala, Women's Health, Sunday Independent, Sydney Morning Herald, Marie Claire, Harper's Bazaar and OK magazine.
I am the developer of the successful video treatment "Freedom from Pain – Today" and creator of the popular "Emer-gizes" body and mind balancing exercise class.
I have worked out of some of the world's top health resorts, successfully helping thousands of people, from traumatized war veterans with PTSD, anxious doctors and stressed out CEOs, to poorly performing athletes, royalty and music stars.
'It (Havening) is going to change the face of therapy across the world!' Famed celebrity therapist and #1 author Paul Mckenna Phd
Book a Skype session with me today My Skype based QEPR sessions are as effective as they are in-person. So why not book a session today. I assure you, you will feel significant results even during your first session! Click HERE now for further information and to book.
'This guy is awesome…!' CNN (Turk)
Get ache and pain relief today! I'm creator of  'Freedom from Pain – Today!' A unique and powerful short video treatment course that will enable you to quickly overcome an acute or chronic physical concern. From neck, shoulder, back ache, pain, muscular problems, pms, tension, stiffness, headaches and more! This very affordable course and comes with a money-back guarantee – so nothing to lose by giving it a go! Preview it exclusively here! 
Download my co-authored Amazon best-selling books and overcome some stress, improve your finances and health! The first, 'The Winning Way' with Brian Tracy (Maximum Achievement) and other leading experts. The second, 'The Soul of Success' with Jack Canfield – (#1 New York Times 'Chicken Soup for the Soul' and 'The Secret') and other leading experts.
In both books I write how you can use Havening to overcome any stress, fear or anxiety! Also several practical ways to overcome your work stress.
The books are packed with lots of other useful information, tips and advice on a wide range of subjects. From improving your finances and relationships to your health! Both are available as download at an exclusive reduced online rate here: 'The Winning Way' and 'The Soul of Success'.
'Paul Emery is exceptional! He listens carefully, is understanding, experienced and importantly helped me overcome a severe anxiety problem. I recommend him without reservation, and so will you!'  Brett Batchelor
Come and learn QEPR! Throughout decades I have traveled internationally to study with highly regarded doctors, such as Dr. Roger Callahan, Dr. Ronald Ruden, co-creator of NLP Dr. Richard Bandler. Also with EFT Founder Gary Craig, celebrity therapist Paul McKenna and more recently Kevin Laye and Karl Smith.
Now you can come and learn the best of the best teachings uniquely combined with my own experience and innovations that I successfully use in my consultations. All at a fraction of the time, research, experimenting and financial cost I had to! 
During my easy QEPR Practitioner course you will learn the best, most effective and quickest ways to help yourself or others overcome a wide-range of problems. These are the same techniques that I have successfully tried and tested on 1000's of my clients. You will be amazed at what you will be able to accomplish after this course! Go HERE for further details.
'It is like magic. I'm feeling amazed. Well, everyone should try him!' Pratha Shah
 Some FAQ taken from my 2017 Vogue interview.